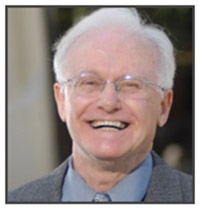 Dr. Leslie Allen has done 24 lectures on the book of Ezekiel. He has a Ph. D. in Hebrew from London University and an MA in Classics and Oriental Studies from Cambridge University. He has written books on Psalms (NICOT), Jeremiah (OT Library), 1-2 Chronicles; Prophets: Language, Image and Structure in the Prophetic Writings (JSOT Sup) and two volumes on Ezekiel for the Word Biblical Commentary series.
Dr. Leslie Allen - August 22, 2016
Dr. Leslie Allen, Ezekiel, Lecture 1, Ezekiel among the Prophets
More From "Ezekiel - Allen"
| | | | | | |
| --- | --- | --- | --- | --- | --- |
| Dr. Leslie Allen, Ezekiel, Lecture 1, Ezekiel among the Prophets | | August 22, 2016 | | Watch | Listen |
| Dr. Leslie Allen, Ezekiel, Lecture 2, Part One--Ezekiel's visionary call (Ezk 1:1-3:15) | | August 22, 2016 | | Watch | Listen |
| Dr. Leslie Allen, Ezekiel, Lecture 3, A later commission; signs for Jerusalem (Ezk 3:16-5:17) | | August 22, 2016 | | Watch | Listen |
| Dr. Leslie Allen, Ezekiel, Lecture 4, Messages of destruction for the land of Israel (Ezk 6:1-7:27) | | August 22, 2016 | | Watch | Listen |
| Dr. Leslie Allen, Ezekiel, Lecture 5, Part Two--Vision of God's glory leaving (Ezk 8:1-11:25) | | August 22, 2016 | | Watch | Listen |
| Dr. Leslie Allen, Ezekiel, Lecture 6, Signs about exile from Jerusalem (Ezk 12:1-14:11) | | August 22, 2016 | | Watch | Listen |
| Dr. Leslie Allen, Ezekiel, Lecture 7, Jerusalem condemned and restored (Ezk 14:12-16:63) | | August 22, 2016 | | Watch | Listen |
| Dr. Leslie Allen, Ezekiel, Lecture 8, Fall--and rise--of the monarchy (Ezk 17:1-24; 19:1-14) | | August 22, 2016 | | Watch | Listen |
| Dr. Leslie Allen, Ezekiel, Lecture 9, Living out the hope (Ezk 18:1-32) | | August 22, 2016 | | Watch | Listen |
| Dr. Leslie Allen, Ezekiel, Lecture 10, Part Three--Exodus, old and new (Ezk 20:1-44) | | August 22, 2016 | | Watch | Listen |
| Dr. Leslie Allen, Ezekiel, Lecture 11, God's sword against sinful Jerusalem (Ezk 20:45-23:49) | | August 22, 2016 | | Watch | Listen |
| Dr. Leslie Allen, Ezekiel, Lecture 12, Three unforgettable days (Ezk 24:1-27) | | August 22, 2016 | | Watch | Listen |
| Dr. Leslie Allen, Ezekiel, Lecture 13, Part Four--Doom for the Tyre and Sidon (Ezk 25:1-28:26) | | August 22, 2016 | | Watch | Listen |
| Dr. Leslie Allen, Ezekiel, Lecture 14, Doom for Egypt (Ezk 29:1-32:32) | | August 22, 2016 | | Watch | Listen |
| Dr. Leslie Allen, Ezekiel, Lecture 15, Part Five The tide turns (Ezk 33:1-33) | | August 22, 2016 | | Watch | Listen |
| Dr. Leslie Allen, Ezekiel, Lecture 16, Israel's good Shepherd (Ezk 34:1-31) | | August 22, 2016 | | Watch | Listen |
| Dr. Leslie Allen, Ezekiel, Lecture 17, Edom's fate versus Israel's future (Ezk 35:1-36:15) | | August 22, 2016 | | Watch | Listen |
| Dr. Leslie Allen, Ezekiel, Lecture 18, Israel's renewal (Ezk 36:16-38) | | August 22, 2016 | | Watch | Listen |
| Dr. Leslie Allen, Ezekiel, Lecture 19, Vision of Israel's rising again (Ezk 37:1-28) | | August 22, 2016 | | Watch | Listen |
| Dr. Leslie Allen, Ezekiel, Lecture 20, Part Six Israel's security put to the test (Ezk 38:1-39:29) | | August 22, 2016 | | Watch | Listen |
| Dr. Leslie Allen, Ezekiel, Lecture 21, Part Seven; Visionary tour of the new temple (Ezk 40:1-42:20) | | August 22, 2016 | | Watch | Listen |
| Dr. Leslie Allen, Ezekiel, Lecture 22, Vision of God's glory returning (Ezk 43:1-46:24) | | August 22, 2016 | | Watch | Listen |
| Dr. Leslie Allen, Ezekiel, Lecture 23, Vision of the temple stream (Ezk 47:1-48:35) | | August 22, 2016 | | Watch | Listen |
| Dr. Leslie Allen, Ezekiel, Lecture 24, Ezekiel in relation to the New Testament | | August 22, 2016 | | Watch | Listen |