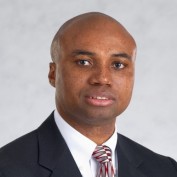 Dr. Daniel Darko has done 30 lectures on the Prison Epistles. He has decrees from the following institutions:
Dipl., Ghana Christian University, Accra
B.Th. Evangelical Theological Seminary, Croatia
M.A. Oxford Centre for Mission Studies & University of Leeds, UK
M.Th. Evangelical Theological Seminary, Croatia
Ph.D. King's College, University of London, UK
Currently Dan teaches at Gordon College, Wenham, MA. He taught at the Central University College and the University of Scranton, PA. He is a Visiting Professor at Regent University College of Science and Technology (Ghana) where he teaches Biblical Hermeneutics and New Testament courses at both undergraduate and graduate levels during summer months. He is the President of Africa Potential, Inc., a non-profit organization dedicated to empowering Africans for the service of Africa.
He is the author of "No Longer Living as the Gentiles: Differentiation and Shared Ethical Values in Ephesians 4.17-6.9" (London: T&T Clark, 2008), editor (with Beth Snodderly) of "First the Kingdom of God: Global Voices on Global Mission" (Pasadena: William Carey International University Press, 2014) and a contributing author of "Global Voices: Reading the Bible in the Majority World" (Peabody: Hendrickson, 2013) and "The Handbook to Social Identity and the New Testament" (London: T&T Clark, 2014).
More From "Prison Epistles"