30 Lectures by Dr. J. Robert Vannoy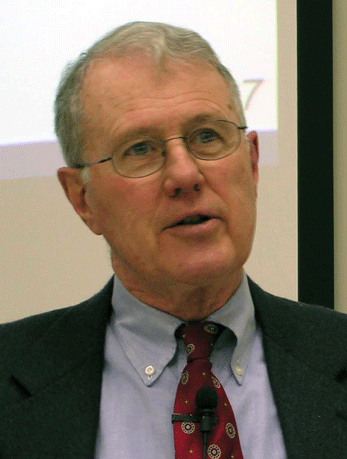 Dr. J. Robert Vannoy - July 2, 2016
Dr. J. Robert Vannoy, 1 & 2 Samuel, Lecture 1 of 4
Dr. J. Robert Vannoy earned his B. A. at Shelton Colletge, M. Div. and S.T.M. from Faith Theological Seminary and his Th. D. from the Free University of Amsterdam. He has taught the Old Testament for decades at Biblical Theological Seminary and has recently published a major commentary on 1 and 2 Samuel (Tyndale House) as well as "Covenant renewal at Gilgal: A study of I Samuel 11:14-12:25" (Wipf & Stock). These lectures were taped by Ted Hildebrandt from Gordon College and biblicalelearning.org.
More Lectures from Dr. J. Robert Vannoy | Download Audio
From Series: "1 & 2 Samuel"
More Lectures From Dr. J. Robert Vannoy...
| | | | | | |
| --- | --- | --- | --- | --- | --- |
| Dr. J. Robert Vannoy, 1 & 2 Samuel, Lecture 1 of 4 | | July 2, 2016 | | Watch | Listen |
| Dr. J. Robert Vannoy, 1 & 2 Samuel, Lecture 2 of 4 | | July 2, 2016 | | Watch | Listen |
| Dr. J. Robert Vannoy, 1 & 2 Samuel, Lecture 3 of 4 | | July 2, 2016 | | Watch | Listen |
| Dr. J. Robert Vannoy, 1 & 2 Samuel, Lecture 4 of 4 | | July 2, 2016 | | Watch | Listen |
| Lecture 1A: Course overview and Title of Exodus, Intro. to date of the Exodus | | September 10, 2016 | | | Listen |
| Lecture 1B: Early and Late Date of the Exodus | | September 10, 2016 | | | Listen |
| Lecture 2A: Early and Late Date of the Exodus | | September 10, 2016 | | | Listen |
| Lecture 2B: The Plagues and Passover | | September 10, 2016 | | | Listen |
| Lecture 3A: Red Sea to the Wilderness | | September 10, 2016 | | | Listen |
| Lecture 3B: Sinai to the Law | | September 10, 2016 | | | Listen |
| Lecture 4A: Exodus 21ff. and the Covenant | | September 10, 2016 | | | Listen |
| Lecture 4B: Exodus, Tabernacle, Sinai | | September 10, 2016 | | | Listen |
| Lecture 5A: Tabernacle, Golden calf | | September 10, 2016 | | | Listen |
| Lecture 5B: Leviticus, Numbers | | September 10, 2016 | | | Listen |
| Lecture 6A: Numbers-begins Deuteronomy | | September 10, 2016 | | | Listen |
| Lecture 6B: Joshua and the Conquest | | September 10, 2016 | | | Listen |
| Lecture 7A: Joshua 1-5: Jordan crossing, Rahab and Spies | | September 10, 2016 | | | Listen |
| Lecture 7B: Joshua: Jericho and Ai | | September 10, 2016 | | | Listen |
| Lecture 8A: Joshua, Gibeon | | September 10, 2016 | | | Listen |
| Lecture 8B: Intro. to Judges | | September 10, 2016 | | | Listen |
| Lecture 9A: Judges | | September 10, 2016 | | | Listen |
| Lecture 9B: 1 Samuel | | September 10, 2016 | | | Listen |
| Lecture 10A: 1 Samuel--Kingship | | September 10, 2016 | | | Listen |
| Lecture 10B: 1 Samuel--Covenant Renewal, 1 & 2 Kings, 1 & 2 Chronicles | | September 10, 2016 | | | Listen |
| Lecture 1A: Prophet as Servant of the Lord | | September 11, 2016 | | | Listen |
| Lecture 1B: Prophetic as Servant of the Lord | | September 11, 2016 | | | Listen |
| Lecture 2: Prophetic Function | | September 11, 2016 | | | Listen |
| Lecture 3: Companies of Prophets | | September 11, 2016 | | | Listen |
| Lecture 4: Terms used to refer to prophets | | September 11, 2016 | | | Listen |
| Lecture 5: Prophetism in the ancient Near East | | September 11, 2016 | | | Listen |
| Lecture 6: Foundations of Biblical Prophecy: Deut. 18:9-22 | | September 11, 2016 | | | Listen |
| Lecture 7: Holy Spirit and Ecstatic utterances | | September 11, 2016 | | | Listen |
| Lecture 8: Prophetic characteristics | | September 11, 2016 | | | Listen |
| Lecture 9: True and False prophets | | September 11, 2016 | | | Listen |
| Lecture 10: Prophets and the cult | | September 11, 2016 | | | Listen |
| Lecture 11: Prophets as writers | | September 11, 2016 | | | Listen |
| Lecture 12: Literary critical approaches to Daniel and Isaiah | | September 11, 2016 | | | Listen |
| Lecture 13a: Hermeneutics of Prophecy: foretelling and forth-telling | | September 11, 2016 | | | Listen |
| Lecture 13b: Guidelines for interpreting prophecy | | September 11, 2016 | | | Listen |
| Lecture 14: Guidelines for interpreting prophecy | | September 11, 2016 | | | Listen |
| Lecture 15: Apologetic value of prophecy | | September 11, 2016 | | | Listen |
| Lecture 16: Apologetic value of prophecy; Obadiah | | September 11, 2016 | | | Listen |
| Lecture 18: Joel | | September 11, 2016 | | | Listen |
| Lecture 19: Joel | | September 11, 2016 | | | Listen |
| Lecture 20: Jonah | | September 11, 2016 | | | Listen |
| Lecture 21a: Jonah | | September 11, 2016 | | | Listen |
| Lecture 21b: Jonah/Amos | | September 11, 2016 | | | Listen |
| Lecture 22: Amos 9 | | September 11, 2016 | | | Listen |
| Lecture 1: Isaiah: Identity, Setting and Structure | | September 11, 2016 | | | Listen |
| Lecture 2: Isaiah 1-2 | | September 11, 2016 | | | Listen |