13 Lectures by Dr. Allen MacRae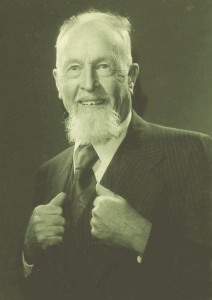 Dr. Allan MacRae - August 19, 2016
Dr. Allan MacRae, Isaiah 1-6, Lecture 1: Introduction to Isaiah 1-6
Dr. Allan MacRae earned his Master of Arts from the Occidental College in the 1920's. He earned a Th. B. from Princeton Theological Seminary in 1927 and an A. M. from Princeton university that same year. Dr. MacRae received his Ph. D. from the University of Pennsylvania in 1936 and is a scholar in Babylonian cuneiform, Egyptian hieroglyphs Arabic, Syriac, Hebrew and Greek. He studied at the University of Berlin and spent 4 months with W. F. Albright in archaeological exploration of the Middle East. He was the co-founder of Biblical Theological Seminary where he was president for many years. Dr. MacRae was a founding minister of the Presbyterian Church of America and was one of the original translators of the NIV translation.
More Lectures from Dr. Allan MacRae | Download Audio
From Series: "Isaiah 1-6"
More Lectures From Dr. Allan MacRae...
| | | | | | |
| --- | --- | --- | --- | --- | --- |
| Dr. Allan MacRae, Isaiah 1-6, Lecture 1: Introduction to Isaiah 1-6 | | August 19, 2016 | | | Listen |
| Dr. Allan MacRae, Isaiah 1-6, Lecture 2: Comparison of Isaiah 2 and Micah 4 | | August 19, 2016 | | | Listen |
| Dr. Allan MacRae, Isaiah 1-6, Lecture 3: Isaiah 2:1-5 and the Millennium | | August 19, 2016 | | | Listen |
| Dr. Allan MacRae, Isaiah 1-6, Lecture 5: Isaiah 4-5 | | August 19, 2016 | | | Listen |
| Dr. Allan MacRae, Isaiah 1-6, Lecture 6: Terminology: "Last Day" and "Branch" | | August 19, 2016 | | | Listen |
| Dr. Allan MacRae, Isaiah 1-6, Lecture 7: Isaiah 6 - Isaiah's Call to Service | | August 19, 2016 | | | Listen |
| Dr. Allan MacRae, Isaiah 1-6, Lecture 8: Isaiah's Call; Isaiah 9 and 11 and the New Testament | | August 19, 2016 | | | Listen |
| Dr. Allan MacRae, Isaiah 1-6, Lecture 9: The Servant/Servants of the Lord | | August 19, 2016 | | | Listen |
| Dr. Allan MacRae, Isaiah 1-6, Lecture 11: Servant of the Lord (3) | | August 19, 2016 | | | Listen |
| Dr. Allan MacRae, Isaiah 1-6, Lecture 12: Higher Critical Approaches to Isaiah | | August 19, 2016 | | | Listen |
| Dr. Allan MacRae, Isaiah 1-6, Lecture 13: Rebuke and Blessing in Isaiah 56-62 | | August 19, 2016 | | | Listen |
| Dr. Allan MacRae, Isaiah 1-6, Lecture 14: The Millennium, the Spirit and Prayer | | August 19, 2016 | | | Listen |
| Dr. Allan MacRae, Isaiah 1-6, Lecture 15: Sin and Repentance in Israel's Future | | August 19, 2016 | | | Listen |
| Dr. Allan MacRae, Isaiah 1-6, Lecture 16: God's Answer to Prayer (Isa 56-62) | | August 19, 2016 | | | Listen |
| Dr. Allan MacRae, Isaiah 1-6, Lecture 17: 1 Kings 22: Micaiah (prophet) and Ahab/Jehoshaphat (kings) | | August 19, 2016 | | | Listen |
| Lecture 1: | | September 12, 2016 | | | Listen |
| Lecture 2 | | September 12, 2016 | | | Listen |
| Lecture 3 | | September 12, 2016 | | | Listen |
| Lecture 4 | | September 12, 2016 | | | Listen |
| Lecture 5 | | September 12, 2016 | | | Listen |
| Lecture 6 | | September 12, 2016 | | | Listen |
| Lecture 7 | | September 12, 2016 | | | Listen |
| Lecture 8 | | September 12, 2016 | | | Listen |
| Lecture 9 | | September 12, 2016 | | | Listen |
| Lecture 10 | | September 12, 2016 | | | Listen |
| Lecture 11 | | September 12, 2016 | | | Listen |
| Lecture 12 | | September 12, 2016 | | | Listen |
| Lecture 13 | | September 12, 2016 | | | Listen |
| Lecture 14 | | September 12, 2016 | | | Listen |
| Lecture 1 | | September 12, 2016 | | | Listen |
| Lecture 2 | | September 12, 2016 | | | Listen |
| Lecture 3 | | September 12, 2016 | | | Listen |
| Lecture 4-5 | | September 12, 2016 | | | Listen |
| Lecture 6 | | September 12, 2016 | | | Listen |
| Lecture 7 | | September 12, 2016 | | | Listen |
| Lecture 8 | | September 12, 2016 | | | Listen |
| Lecture 10 | | September 12, 2016 | | | Listen |
| Lwecture 12 | | September 12, 2016 | | | Listen |
| Lecture 1 | | September 12, 2016 | | | Listen |
| Lecture 2 | | September 12, 2016 | | | Listen |
| Lecture 3 | | September 12, 2016 | | | Listen |
| Lecture 4 | | September 12, 2016 | | | Listen |
| Lecture 5 | | September 12, 2016 | | | Listen |
| Lecture 6 | | September 12, 2016 | | | Listen |
| Lecture 7 | | September 12, 2016 | | | Listen |
| Lecture 8 | | September 12, 2016 | | | Listen |
| Lecture 10 | | September 12, 2016 | | | Listen |
| Lecture 11 | | September 12, 2016 | | | Listen |
| Lecture 12 | | September 12, 2016 | | | Listen |
| Lecture 13 | | September 12, 2016 | | | Listen |